Weezer Fans Prove Chivalry Is Not Dead By Helping Disabled Woman See Show
Whoever thinks chivalry is dead clearly wasn't at the North Dakota State Fair over the weekend. On Saturday night (July 27), Weezer played at the celebration, and a group of concertgoers rallied to ensure one special fan had a memorable experience. As Kate Marthaler, who was in attendance, captured in a now viral Facebook image, a group of people lifted up a woman sitting in a wheelchair and rested it on their shoulders so she could get a better view of the performance, proving chivalry is definitely not dead.
Check out the heartwarming photo below.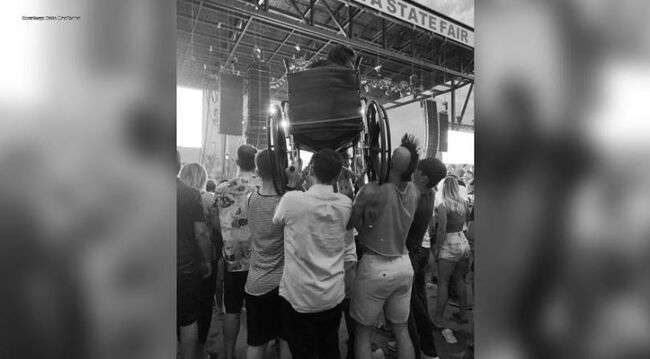 Weezer is spending the rest of the year traversing the world, playing shows everywhere from Tokyo to Puyallup, Washington, and a few special South America dates with Foo Fighters and Tenacious D. Check out their full list of tour dates below.
Weezer 2019 Tour Dates
08/03 — Quebec, Canada @ Festivent Ville de Levis
08/05 —Bethlehem, PA @ Musikfest
08/11 — Incheon, South Korea @ Incheon Pentaport Rock Festival
08/14 — Tokyo, Japan @ Toyosu Pit
08/16 — Tokyo, Japan @ Summer Sonic
08/18 Osaka, Japan @ Summer Sonic
08/29 — Denver, CO @ The Mission Ballroom
08/30 — Snowmass, CO @ Jazz Aspen Snowmass
09/01 — Puyallup, WA @ Washington State Fair
09/22 — Lima, Peru @ Jockey Club
09/24 — Sao Paolo, Brazil @ Ginasio do Ibirapuera
09/29 — Rio de Janeiro, Brazil @ Rock In Rio
10/01 — Bogota, Colombia @ El Campin Stadium
10/04 — San Jose, Costa Rica @ Estadio Nacional
11/16 — Mexico City, Mexico @ Corona Capital Festival
Photo: Getty Images